An open house.
A touch of luxury.
Lots of heart.
WINTER IN ACTION
Nowhere is winter more exciting than here at the Mari Pop Hotel. Breathtaking views, exciting descents. Comfortably warm suites and rooms. Moments that make you sweat and your skin tingle.
Snow, sun, the cool fresh mountain air.
Pure goose bumps.
WINTER OFFERS
For all weekly bookings (7 nights) you get 25% discount.
For all bookings from Sunday to Friday you get 30% discount (from 2 nights).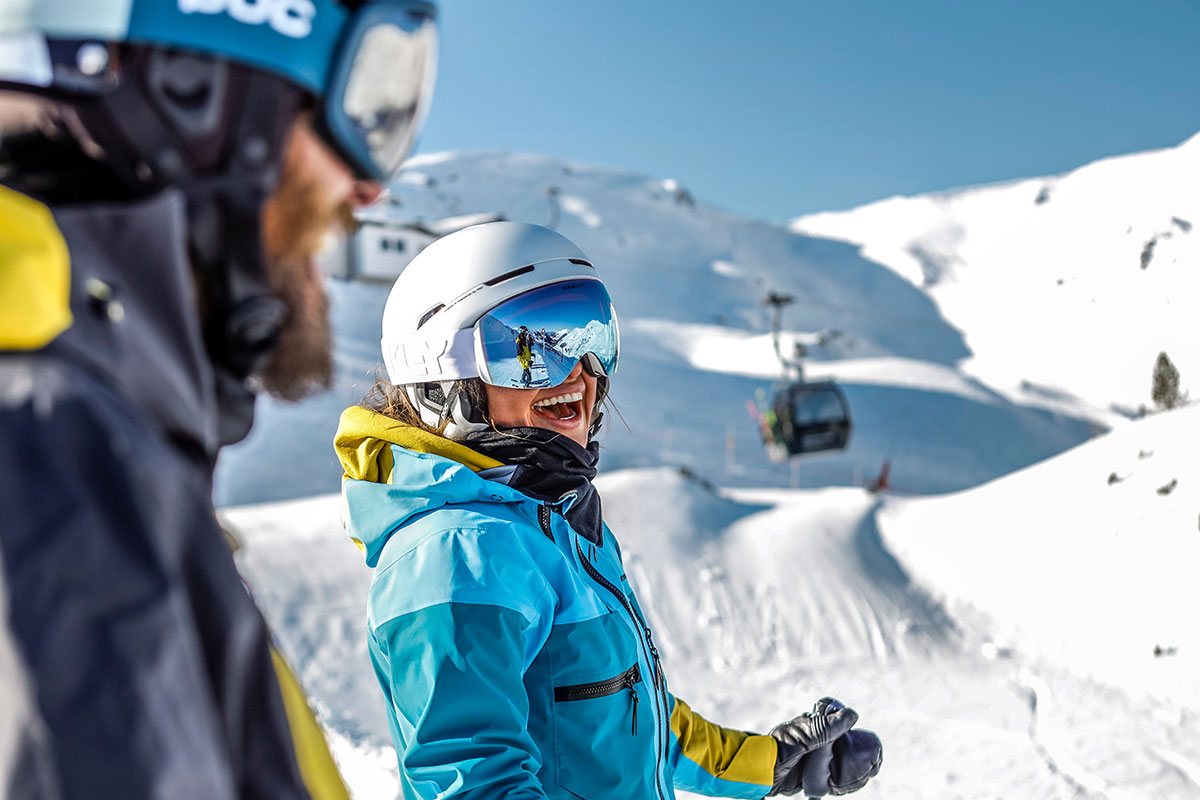 SKIING AND SNOWBOARDING IN ZILLERTAL
Your possibilities for a skiing holiday in the Zillertal are endless. A total of 542 kilometres of slopes and around 180 mountain railways and lifts await you in four ski regions. Here you will find pistes of all levels of difficulty and really all skiers and snowboarders will get their money's worth. In addition, untracked deep-snow slopes, fun parks and cozy ski huts are waiting for you.
SKI-OPTIMAL HOCHZILLERTAL
The ski area Ski-Optimal Hochzillertal-Kaltenbach is only a 5-minute drive (2 km) from the hotel and with about 91 km of slopes it is one of the largest ski areas in the Zillertal. The ski bus to Kaltenbach stops directly in front of the hotel.
At just under 2,400 meters above sea level, you have the choice of numerous blue, red and black pistes. There, pure skiing pleasure is guaranteed. The ski area with its unprepared ski routes also has a lot to offer for freeriders.
SPIELJOCHBAHN
The Spieljochbahn is located in Fügen, about 5.8 km from the Mari Pop. This ski area is particularly suitable for families and ski beginners.
ZILLERTAL ARENA
The Zillertal Arena in Zell am Ziller can be reached in an 11-minute drive (9.6 km). The ski area is the largest in the Zillertal with 143 km of slopes and stretches from Gerlos to Salzburg.
7 reasons for a
winter holiday
at the Mari Pop hotel
1. AN OPEN HOUSE.
Mari Pop Hotel is a place for everyone, rest seekers, workaholics, adventure seekers, lovers, families, unconventional thinkers and free spirits. Here all guests feel at home.
2. A TOUCH OF LUXURY.
We offer selected luxury, without glitz and glamor and only the best for your body and mind: Finest textiles, sustainable organic care products, high quality cuisine (organic, regional, seasonal).
3. LOTS OF HEART.
Everything we offer you in the hotel – from the furniture to the art on the walls and your food on the plate – is selected for you with great attention to detail.
4. MARI IS FOR FOOD LOVERS.
Mari's kitchen never stays cold, here you will be spoiled all day long. Whether for breakfast, lunch snack, cake in the afternoon or dinner in the evening, we serve you only the best from our region.
5. VEGAN FRIENDLY.
As a vegan, you will get your money's worth at Mari Pop, without compromising on what we have to offer. With us you are a guest.
6. SUSTAINABILITY FIRST.
You can trust us, everything we offer you in the hotel has passed the personal sustainability audit of Silvia and Markus (the two owners). If you arrive without a car (by public transport or bike), you get a 10% discount on your booked rate.
7. THE ALPINE RED HEAD.
Free choice of seats at dinner, no bathing shoes to avoid garbage, etc. Yes, we are different, in some places louder and more colorful than others, then again quieter and more thoughtful. Come by, get to know us and STAY FOREVER.
MARI WINTER DEALS
The Glory Ski Days offers include ski passes for 3 or 6 days.

Mari Pop Hotel
4.5

stars - based on

356

Google-Reviews

Mari Pop Hotel
4.8

stars - based on

59

Reviews

Mari Pop Hotel

4

stars - based on

55

user reviews
There is room
for
everyone
Mari Pop Rooms & Suites
In Mari Pop there is room for everyone: for adults, for the little ones, for peace seekers, for newly in love, for best friends and for all who want to experience a lot. Our rooms and suites in the main building combine comfort, luxury and nature. They are the starting point for your adventures and your place to relax.
BEAUTY TREATMENTS AND MASSAGES
Just switch off and enjoy, feel good and let yourself be pampered. A #metime in MariPopBeauty with a pampering facial treatment, a massage that relieves the body of tension, a fine manicure or a pleasantly warm bath and a subsequent body peeling.
Your #metime in the MariPopBeauty area is as individual as you are. We deliberately do not specify individual treatments in advance in the package, but rather offer you the opportunity to book fixed times and then decide on the spot which application you just feel like or what is good for you.
In a world of the ordinary and mundane, we encourage you to find your own natural beauty. We believe in a fusion of highly effective natural ingredients, innovative rituals and mindful application.
It's time to forget the to-do list. Time to press the pause button and pamper ourselves. The ideal place for that? The Mari Spa. The versatile Mari Spa with the Rooftop Spa, the Family Spa and the Private Garden & Rooftop Spa.